I love how versatile workout attire has become over the years. For one, it's always been my go-to. I don't know how I would've survived college without Starbucks, Nikes, and leggings. This magical trifecta allowed me to sleep in an extra 15 glorious minutes without rolling into class looking like I just woke up — which I totally did. Secondly, there's just something about new gym wear that gives a girl all the
motivation
she needs to crush her workout. Don't ask me how, as far as I'm concerned it's backed by science. Here are some athletic leggings that are too beautiful to keep to ourselves: 
1. These black and white beauties
We got
a lot of love
 for our ensemble in this pic. The shoes are 
Flex Trainer 4 and the leggings are Nike Floe if you want to snag them for 
yourself.
2. Bring out your wild side
Just when you thought geometric patterns and animal print couldn't coexist, ICANIWILL proves you wrong.
3. Accentuate your assets
As they say, when life hands you lemons, pray that they're Lulu. 
4. Colorblocked
For those times you just want a little pop of color.
5. If you're ballin' on a budget
Yes, these aren't printed, but Forever 21's activewear selection is too adorable and affordable not to mention.
6. Spotted: Leggings I need

via pinterest

I love these so much and don't even know where to get them. Knowing my luck, they've been sold out since '07. If you want to help a girl out in the comment section I'd be forever grateful. Update: Mystery Solved! They're Nike Pro Core Safari Capris.
7. Color me happy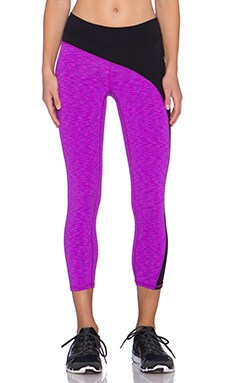 Ahh! That color is purple/pink perfection.
8. Cut it out
Mesh walks a fine line between being tacky and stylish. This particular number falls under the latter.
9. Futuristic vibes
These would be perfect for a night run.
10. Think Pink
You can never go wrong with anything from Victoria's Secret.  
BONUS
SO many colorful options and they're seriously the softest leggings we've ever slipped our legs into. Want to get 20% off? Visit this handy link: http://bit.ly/20OFFDJ. You're welcome in advance!  
To see more workout bottoms click here. Now you have plenty of items to add to your Christmas Wishlist — it's never too early to get started! The only thing you need to complete your look is a cute graphic tank *wink wink*